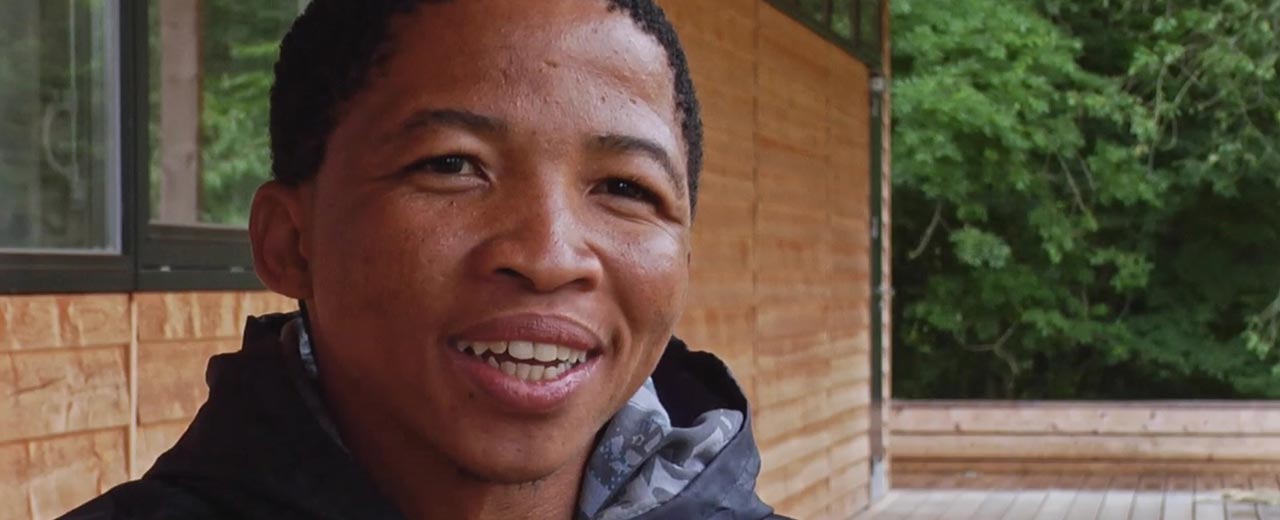 Germany, Director: Simon Stadtler
We get to travel and visit cultures at our demand. But there are people, who will never experience the life of us. Ghostland changes this and brings one of the oldest nations on the planet to visit Germany.
Runtime: 85 Minutes
Donnerstag, 25. April
18:00
Entry - free of admission - video installations and interactive films are ready to be explored.
19:00
OPENING CEREMONY moderated by Julia Monte and Lucas Dohle
19:20
Opening Film: GHOSTLAND
21:00
Our 8th Scene-Talk is dedicated to The Film For Our Future network.
22:00
After a break the Scene-Talk is followed by a Showcase of three short films that represent the new network.
Freitag, 26. April
11:00
THE BREAKFAST WITH FILMMAKERS
14:00
GOURMET CITY TOUR with Anja Christ. 
17:00
Special Event R.L.P.! Filmmakers of all branches leave the state. 
              Crisis Meeting and position
19:00
Short Film Programme: INTERSECTIONS AND CONNECTIONS (Bluescreen)
              Movement, Clock Keeper, Tell Me Something I Don't Know, Close enough, Royal Affairs
19:00
Short Film Programme: THE PARADOX OF FREEDOM (Magentascreen)
              Two Signs' Den: Epilogue, The traffic seperating device, The old man and the dead
20:00
Scene-Talk: Why "The Paradox of Freedom" is a bad title
21:00
Short Film Programme: BEYOND BOUNDARIES (Bluescreen)
              Catharsis, The Fisherman and the Girl, Mouras, Mauerrufe - Wall Calls
21:00
Short Film Programme: CELEBRATING DIVERSITY (Magentascreen)
              The Dérive, Raheel, Are You Volleyball?!
Samstag, 27. April
11:00
THE BREAKFAST WITH FILMMAKERS
14:00
THE DIRECTORS' COFFEE
14:00
Local Feature: BEYOND BOUNDARIES 2 (Magentascreen)
14:00  
Short Film Programme: MAKING THE WORLD A BETTER PLACE 1 (Bluescreen)
              After the Conversation they say Goodbye with an Embrace, Cor de Pele, Bangkok 2032
16:00
Local Feature: MAKING THE WORLD A BETTER PLACE 2 (Bluescreen)
16:00
Local Feature: CELEBRATING DIVERSITY 2 (Magentascreen)
19:00
Short Film Programme: NEW WAYS OF STORYTELLING (Magentascreen)
              A Guide to Breathing under Water, F**cking Drama, Medium Rare,
SuperMeowMeow|Game of LOVE, Three Casualities,
             The missing things, In a Nutshell
19:00
Short Film Programme: LIFE IN SEASONS (Bluescreen)
              Rocco, Blood Shaped Hole in my Heart, Ten minutes tops, Pǔ Yùn, The Dress of Myriam
20:00
The 10th Scene-Talk: New Ways in Film, Funds and Storytelling
21:00
Short Film Programme: BREAKING THE RULES (Magentascreen)
              Those who can die, Deadpan, Smalville, The Last Five Minutes of the World
21:00
Short Film Programme: (MODERN) FAIRY TALES (Bluescreen)
              Approval Needed, After Dawn, Erdenleib
23:00
AFTER SHOW FLIMMERN with the Dub Tales und Sepi Faust
Sonntag, 28. April
11:00  
THE BREAKFAST WITH FILMMAKERS
14:00
MAINZ 4 KIDS with a local Kinderfilm + Hands On für die Kleinen
              + Workshop für Kinder mit Eumelfilm
              + Workshop für Kinder mit Hannes Frank
Booklet 2019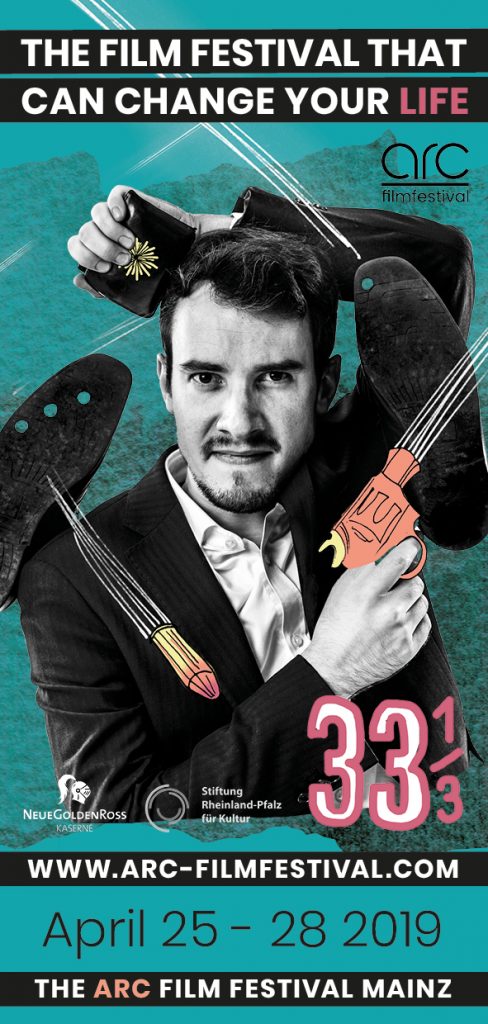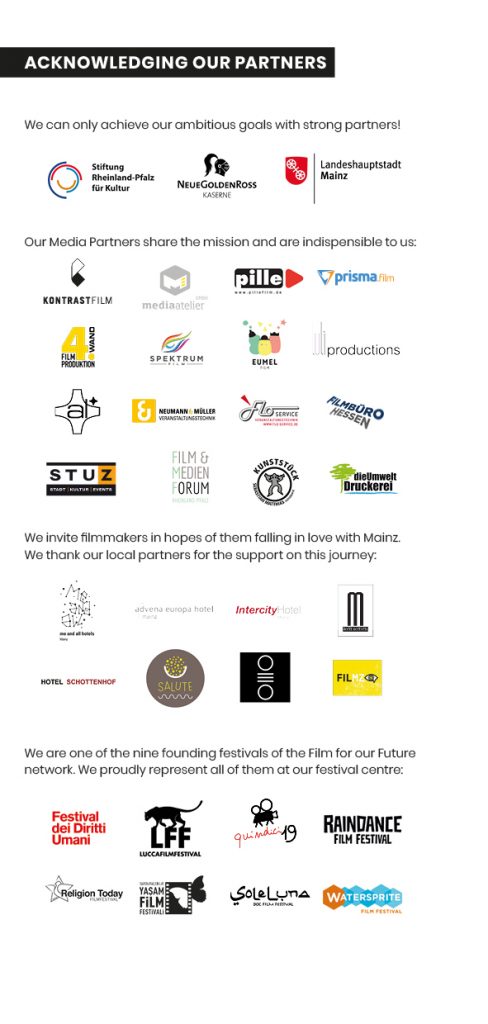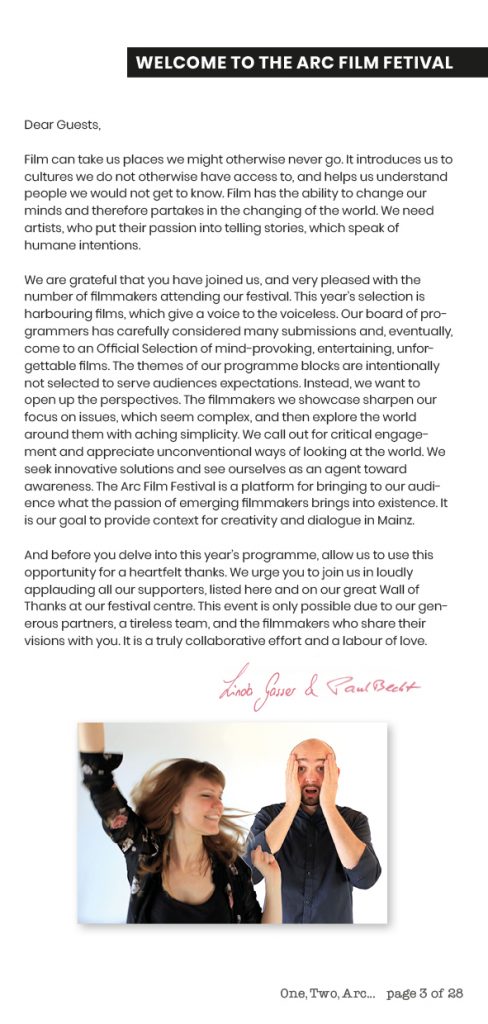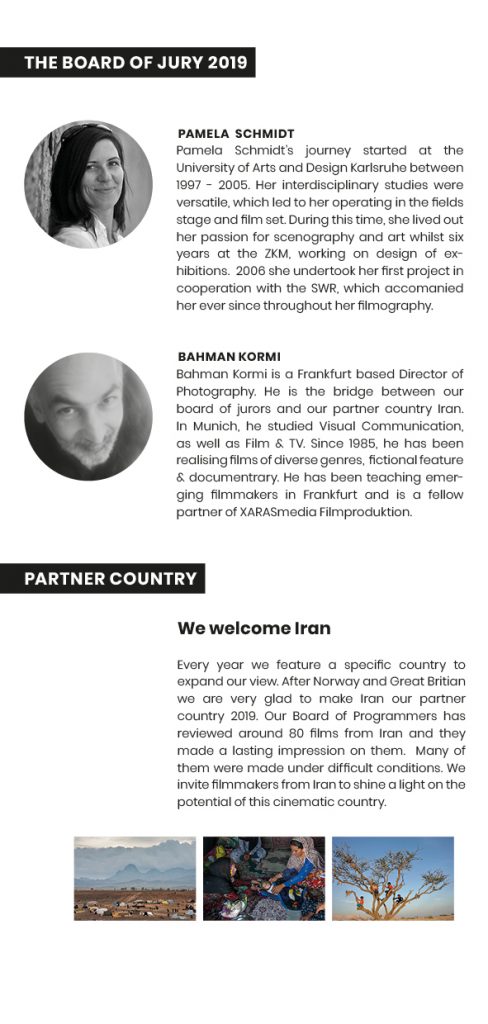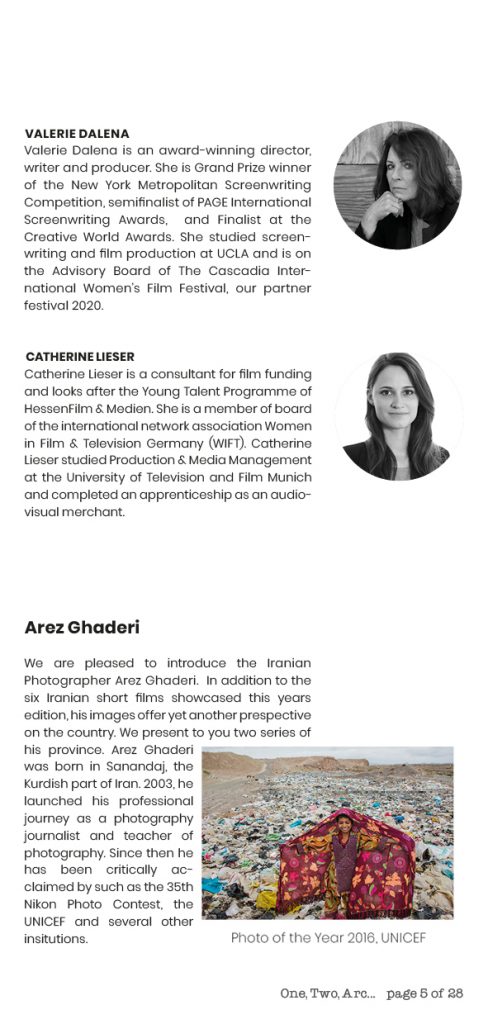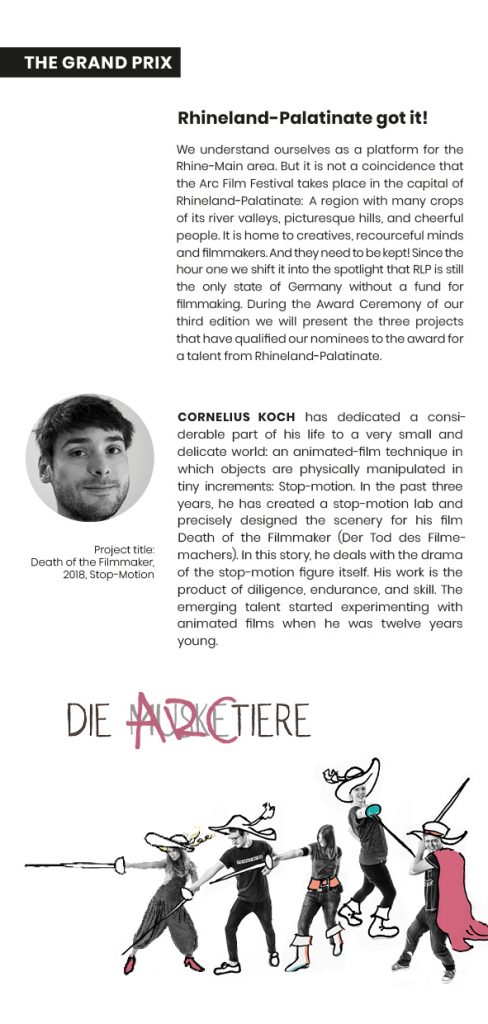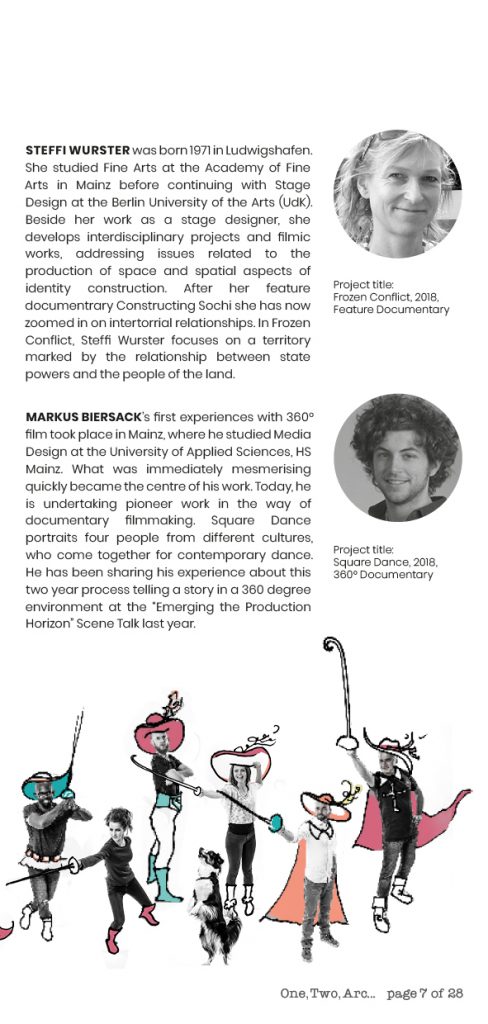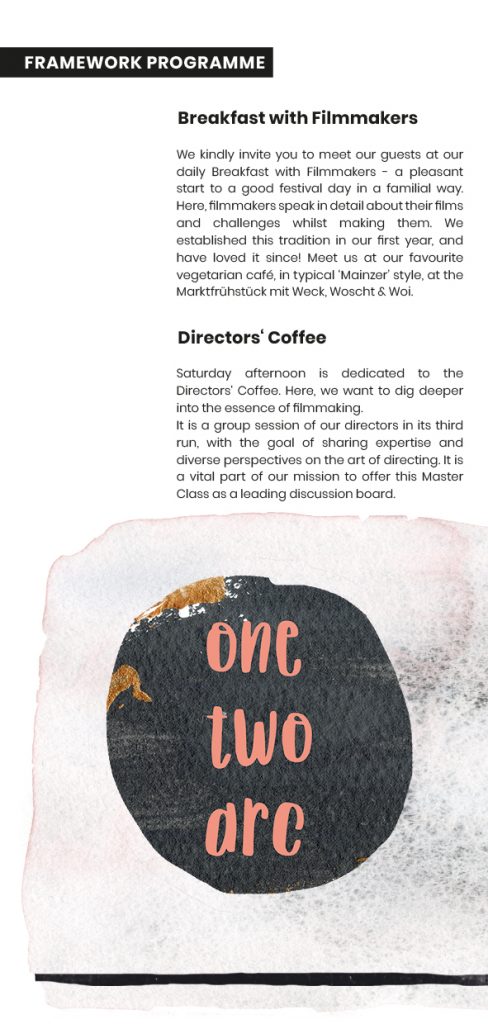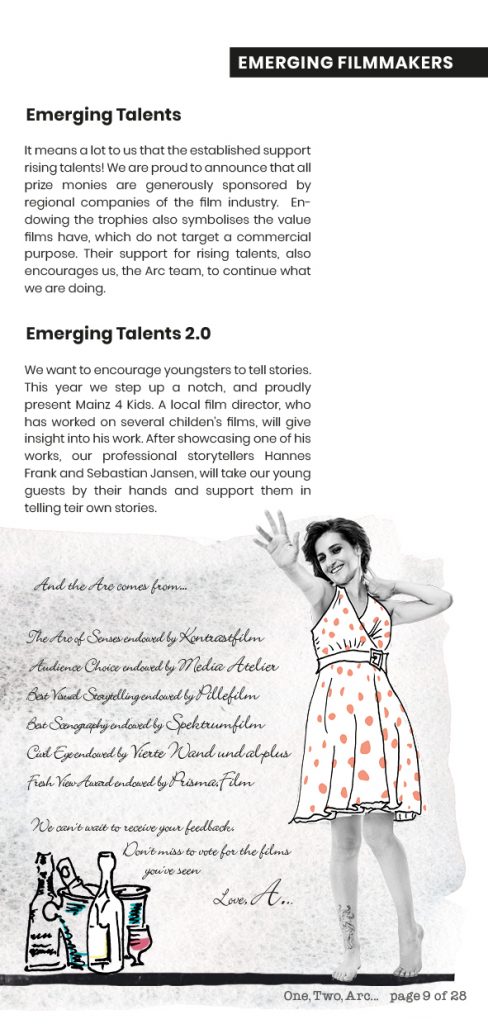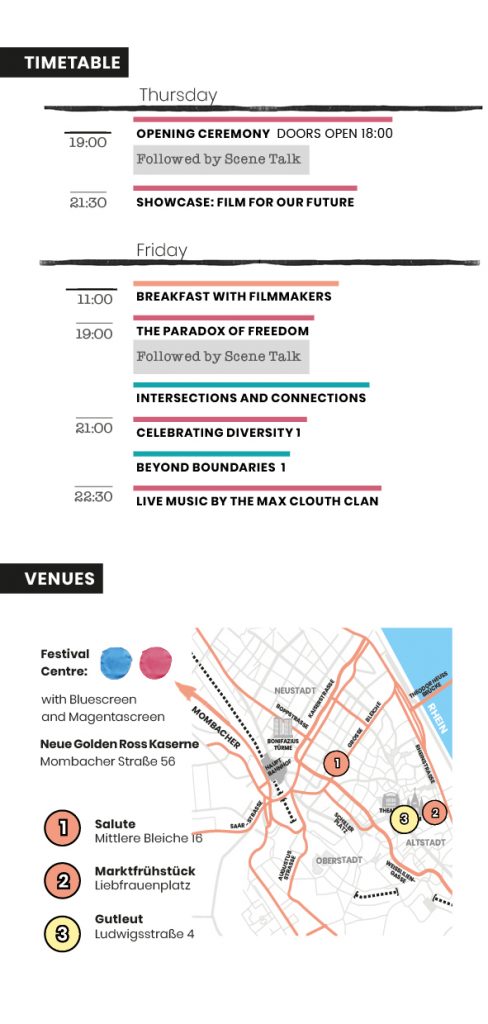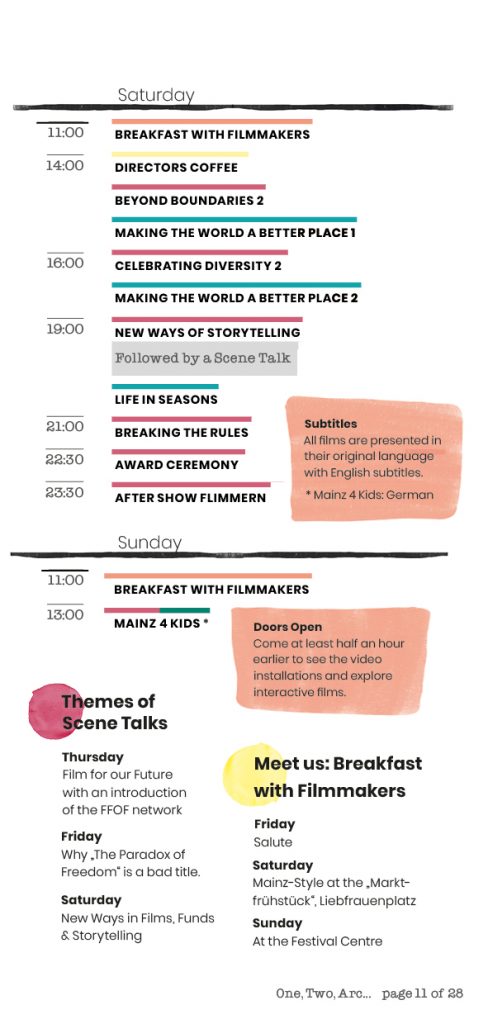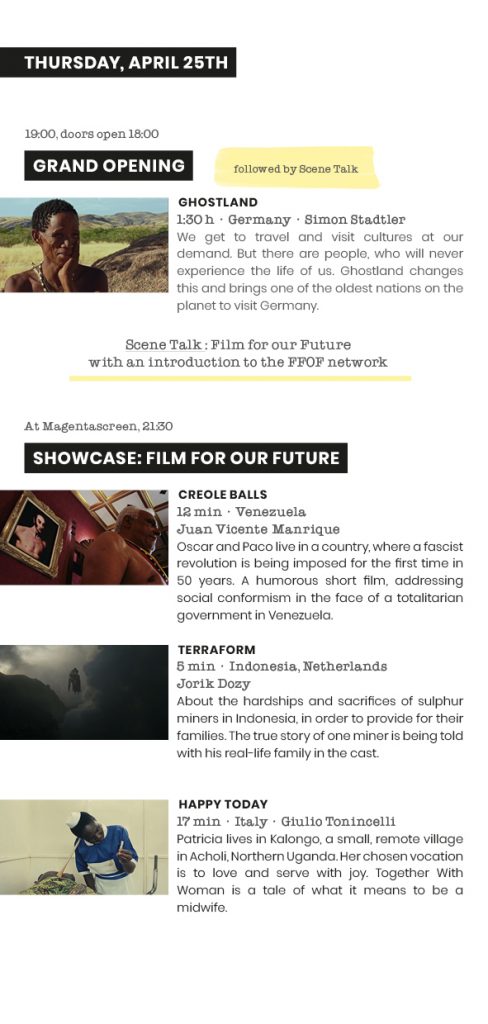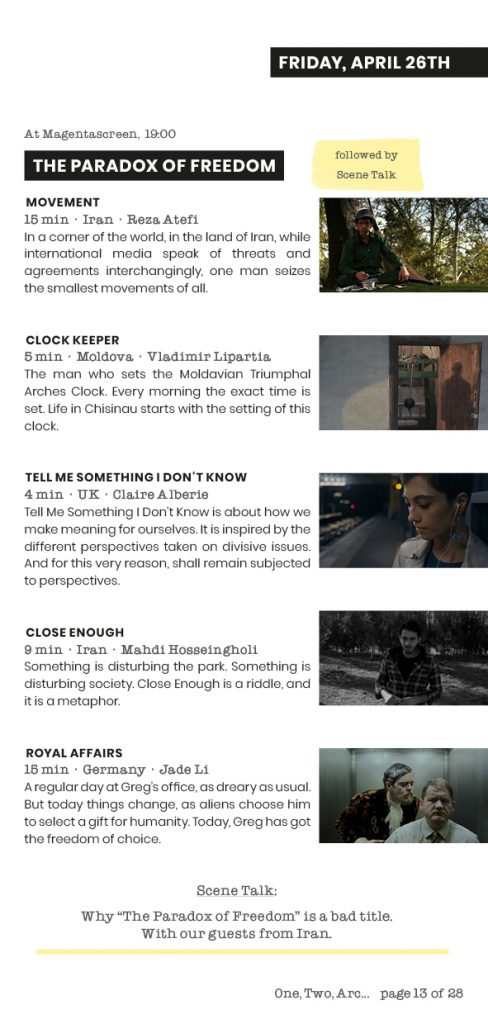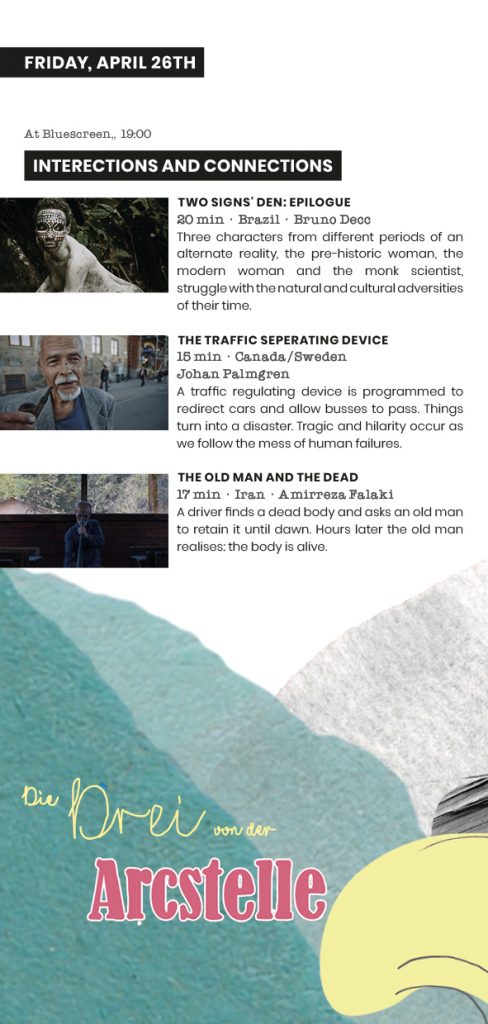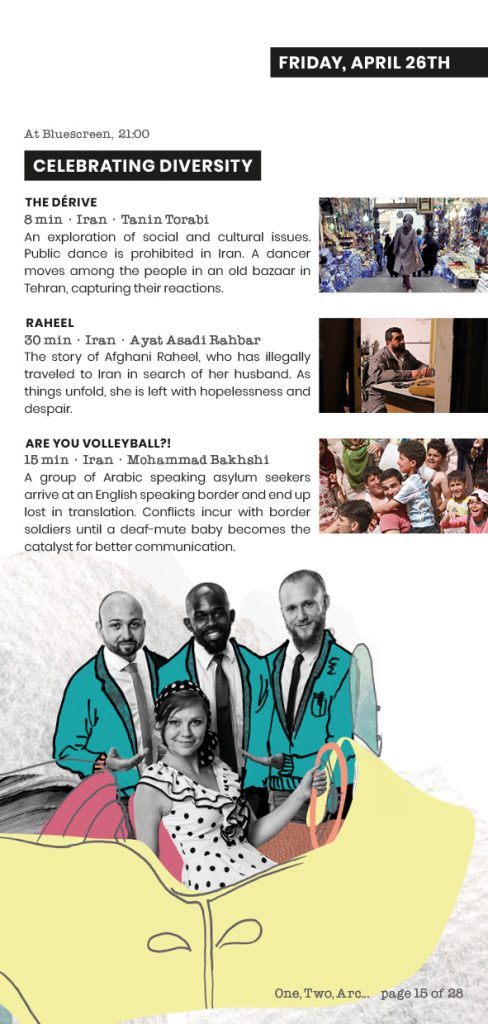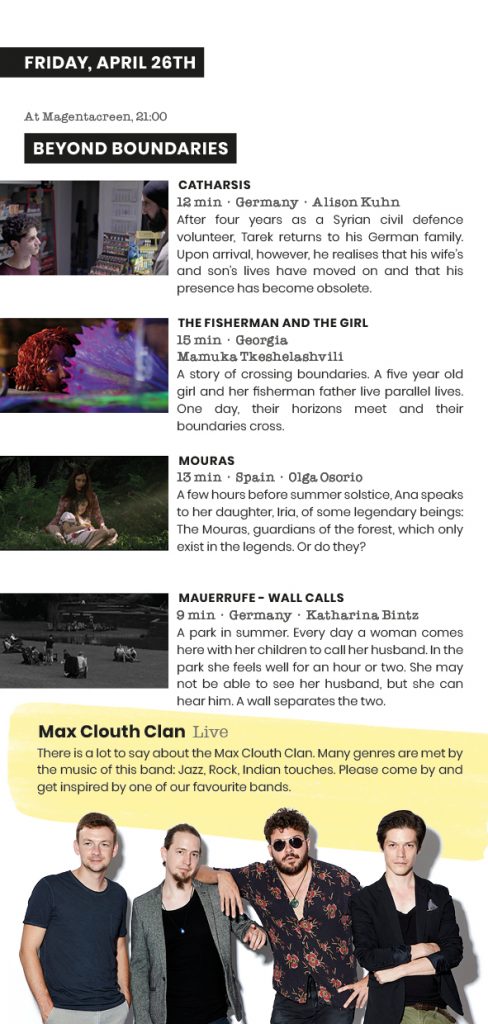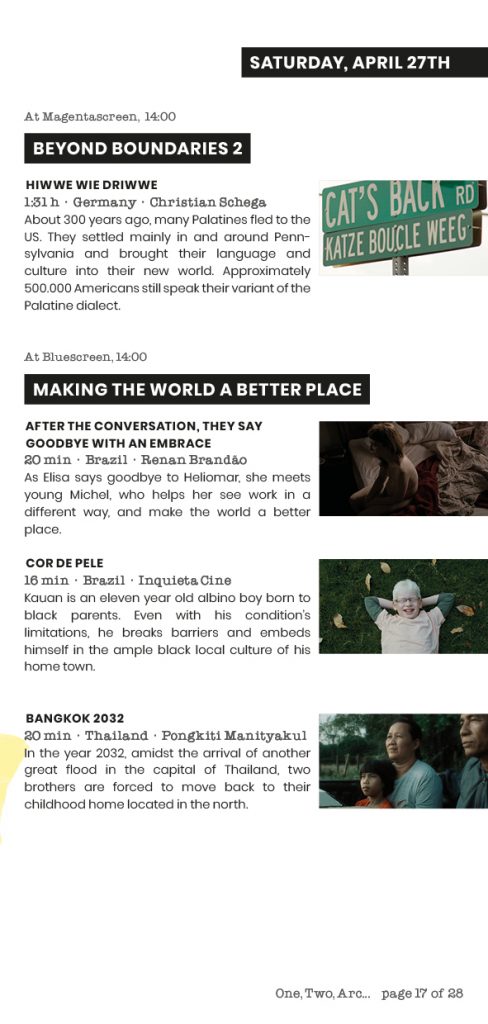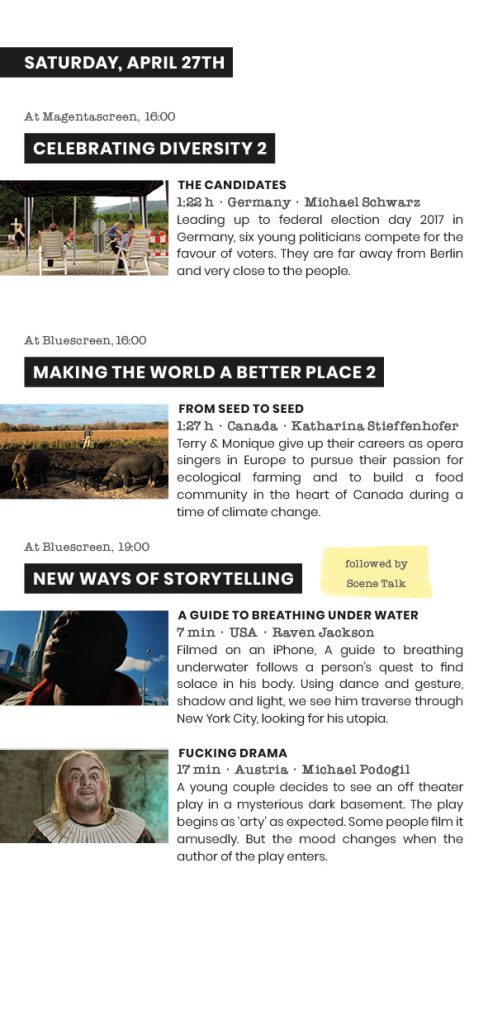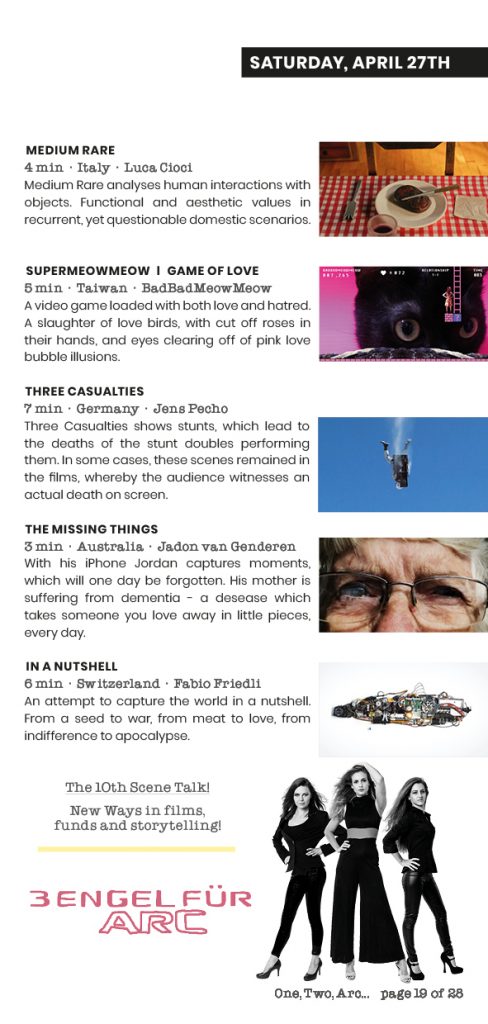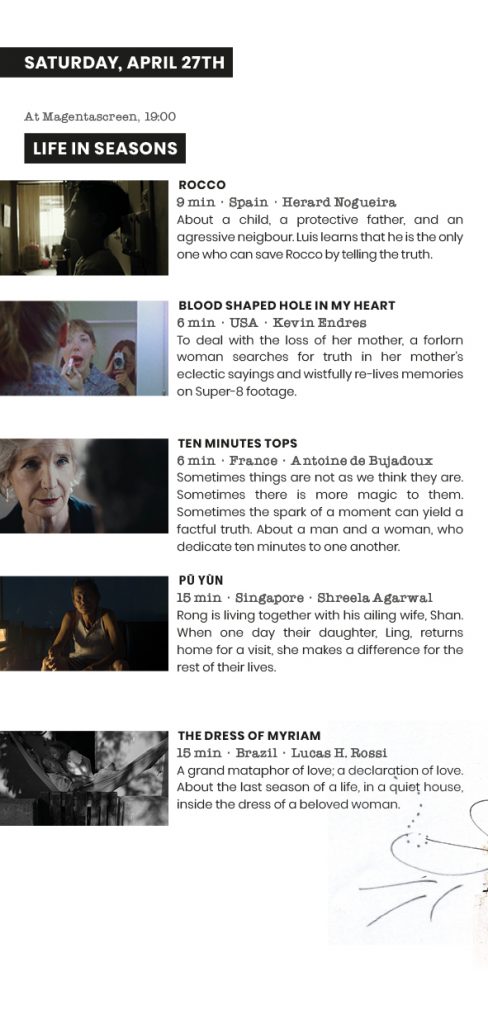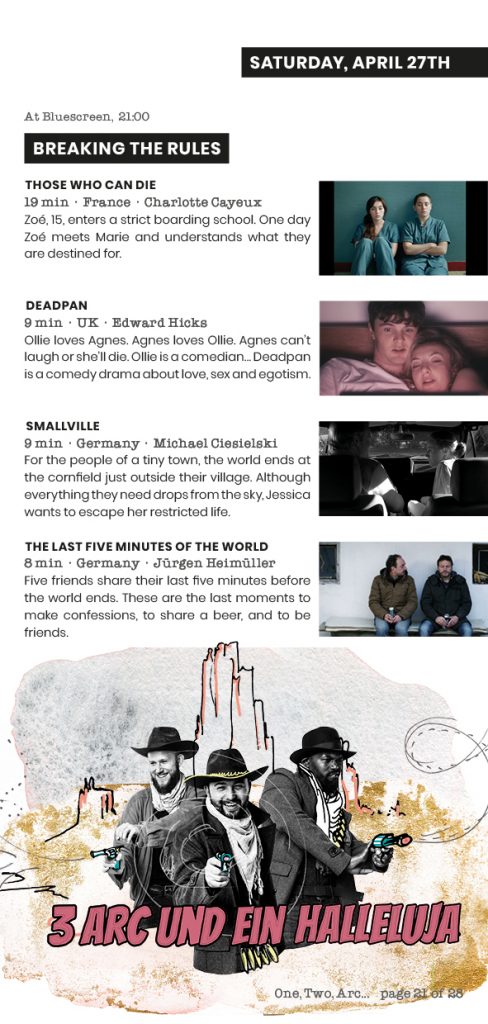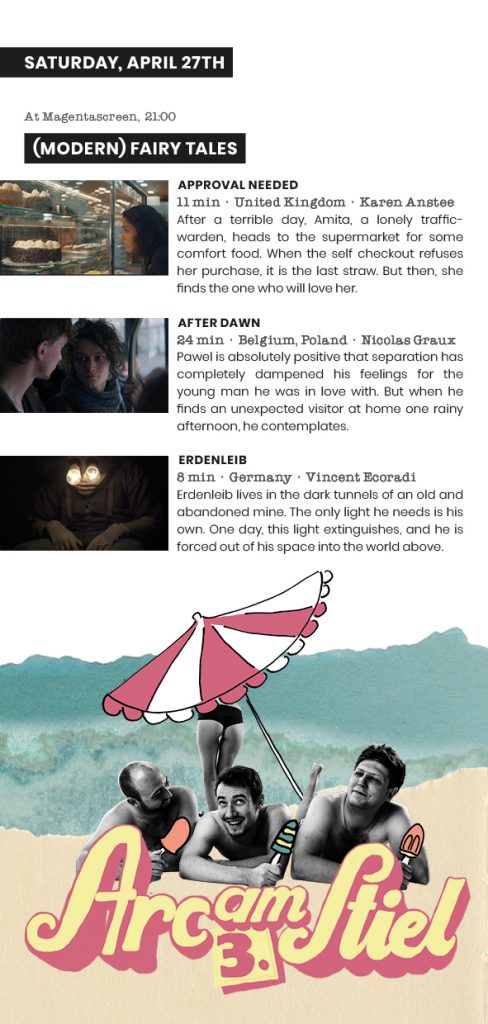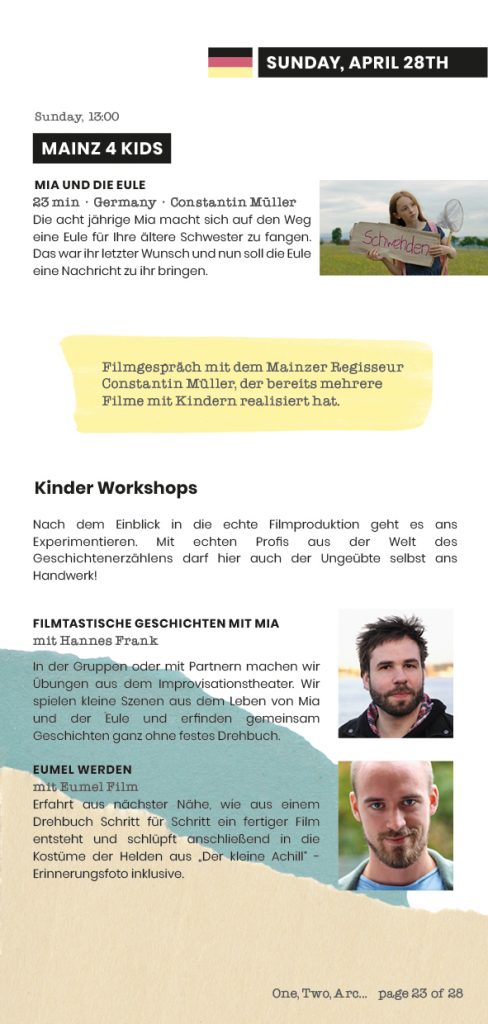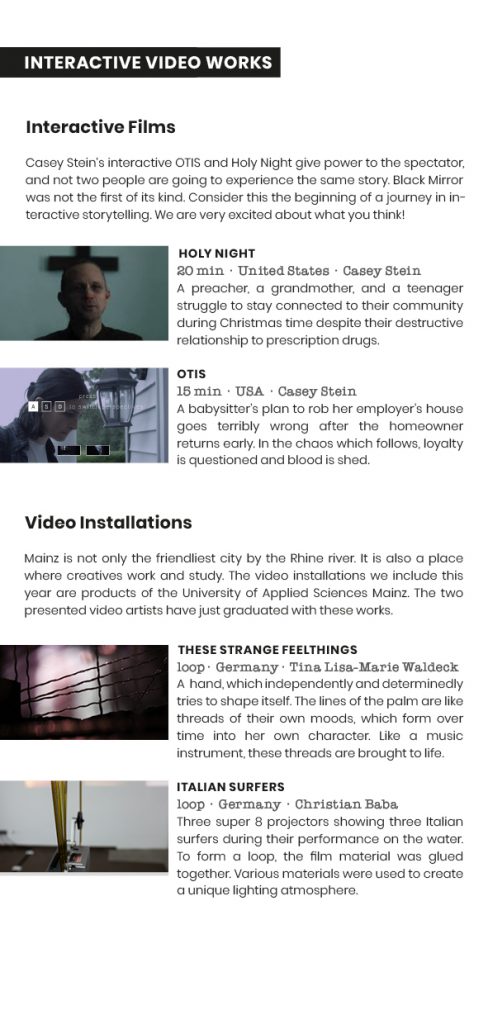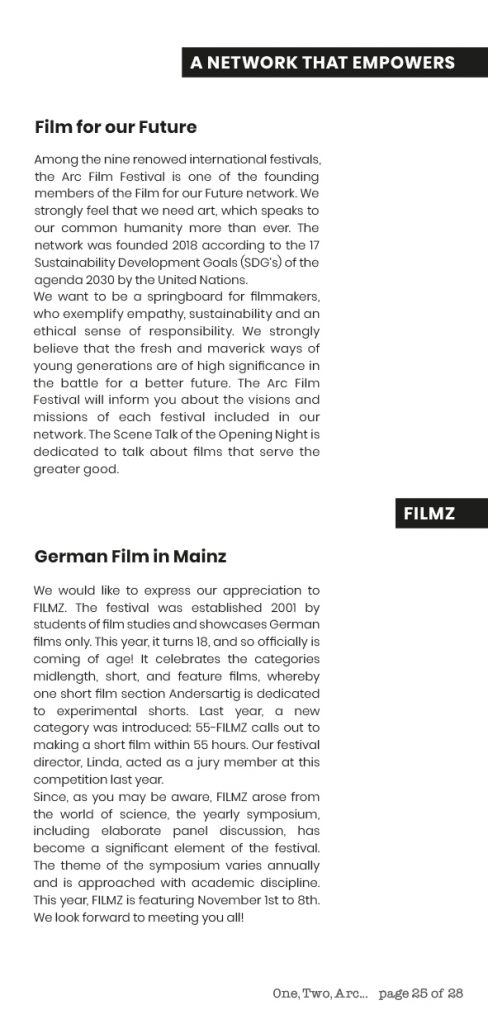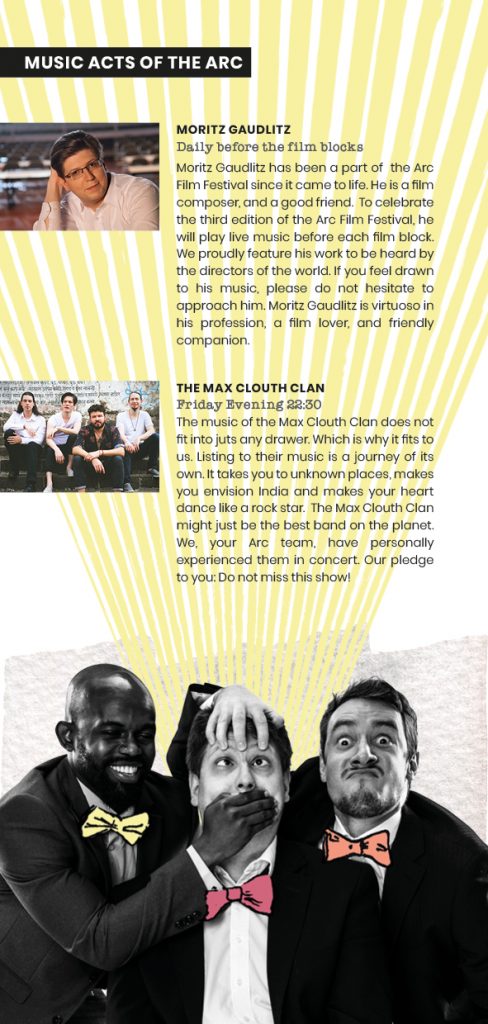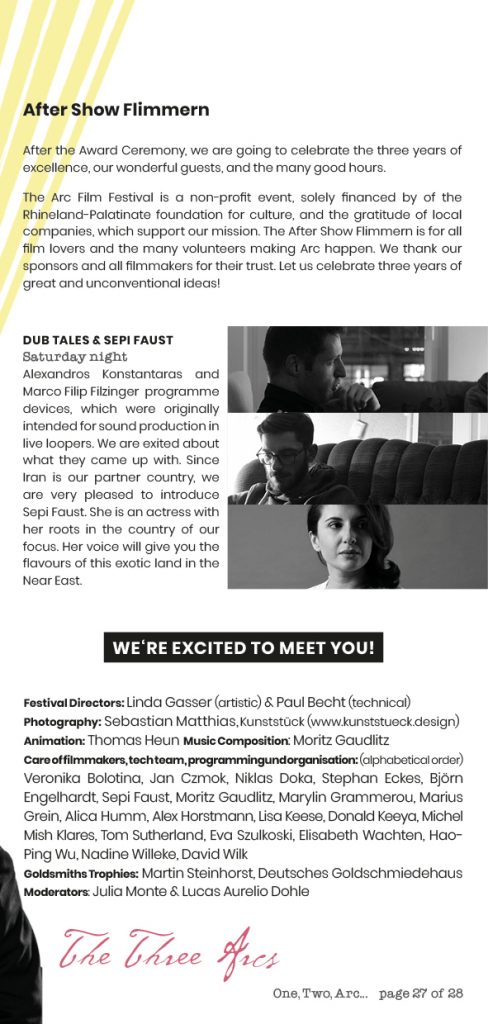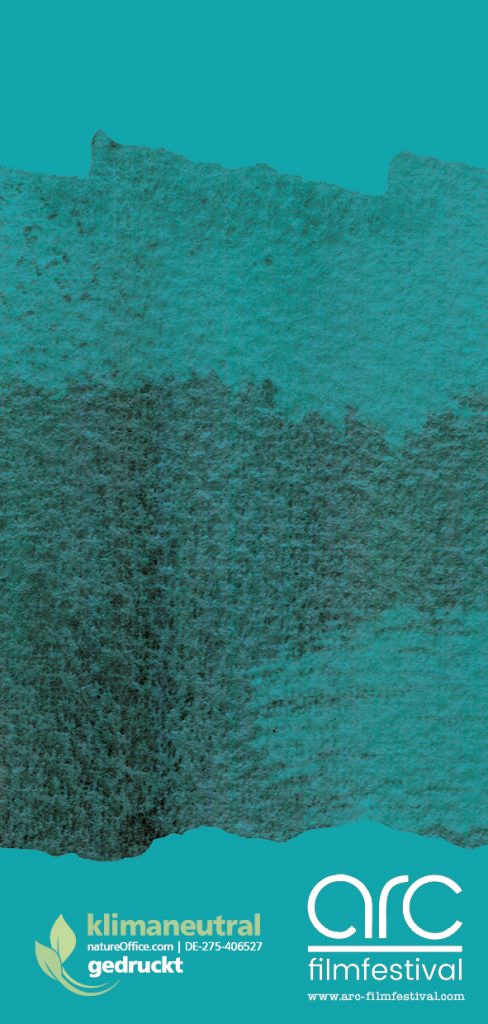 << Download PDF >>